Phase 1/2 Trial of T-Guard™ in the Treatment of Steroid-Resistant, Acute, Graft versus Host Disease (GVHD) Study Delivers Promising Interim Results
Nijmegen, the Netherlands, January 4, 2016 - Researchers in the Netherlands and Germany have reported positive interim results of a Phase 1/2 clinical study evaluating T-Guard™ for treatment of steroid-resistant, acute, Graft versus Host Disease (GVHD), a frequent and potentially life-threatening complication of bone marrow and blood stem cell transplantation.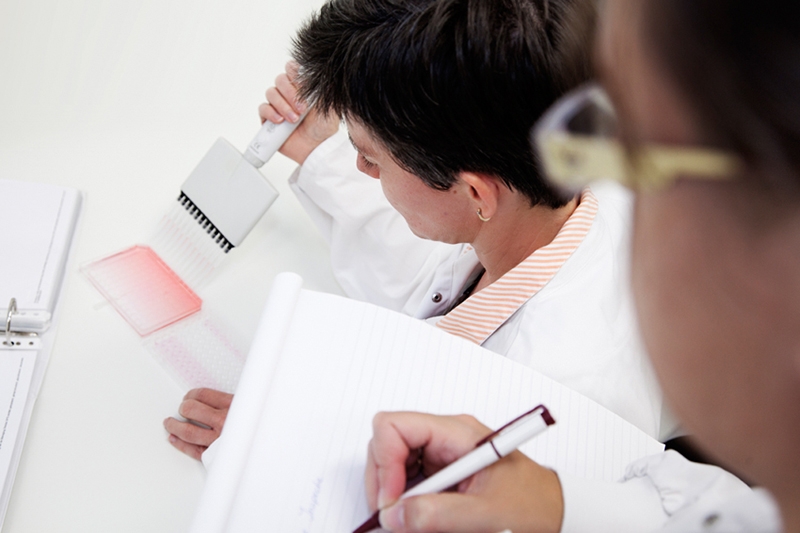 T-Guard™ is a combination of two toxin-loaded anti-T-cell antibodies that shows promise as a therapeutic tool for safely and swiftly resetting the body's immune system in T cell mediated diseases. It is currently being developed for the treatment of acute Graft versus Host Disease (GVHD), a feared and potentially life-threatening complication of hematopoietic stem cell transplantation. There are presently no registered therapies for acute GVHD patients, who have failed standard first-line corticosteroid therapy and the prognosis for these patients is very poor.
Towards investigation of T-Guard's potential as a medicine, the first full clinical trial (a 20-patient Phase 1/2 trial to explore its safety and efficacy) began in 2014 at the Radboud University Medical Center in Nijmegen, the Netherlands. It was extended to the University Hospital of Muenster, in Germany, in 2015.
Researchers from both institutes have reported positive interim results from the first 13 patients in the trial, who were predominantly suffering from the notoriously difficult-to-treat, steroid-resistant, acute form of GVHD in the gut. Compared to the results of an independently-conducted retrospective study on the institutional standard of care in the period immediately preceding this trial, both the 28-day overall and complete response rate had substantially improved (the majority of patients were complete responders, representing an almost doubling of the complete response rate). This translated into a two-fold higher overall survival rate in the subset of patients, who completed the six-month follow-up period at the time of the interim analysis. T-Guard was also generally well-tolerated and safe. Investigators reported that any adverse events that were potentially treatment-related were all clinically well-manageable. Detailed and final study results will be published upon completion of the study.
While these interim outcomes met the pre-defined criteria of the independent Data and Safety Monitoring Board to recommend the continuation of the study, the results have also generated interest in extending this second phase of the Phase 1/2 study with an additional 20 patients, to explore the benefits of providing an additional T-Guard treatment course to those patients that showed at least a partial response to the first course, and who could benefit from a 'last push' towards a complete response. Xenikos' current shareholders, Dutch Blood Supply Foundation, Sanquin (Amsterdam, the Netherlands), and regional development company, PPM Oost (Apeldoorn, the Netherlands), have provided additional financial support for this study extension. It is anticipated to position T-Guard optimally for a subsequent, randomized active-controlled pivotal study in the European Union (EU)/United States (US). Based on initial discussions with regulators, it is believed that such a study, if successful, may qualify T-Guard for accelerated approval (US) and conditional marketing authorization (EU).
The primary safety and efficacy outcomes of the extended Phase 1/2 study are expected in Q1 2017.
"We are very pleased by this positive outcome of the interim analysis. These encouraging results, along with the constructive and positive feedback obtained from the key regulatory bodies, bring us a step closer to better treatment of severe acute GVHD."
said Ypke van Oosterhout, Chief Executive Officer of Xenikos B.V. - the company behind the development of T-Guard.
"They also mean that discussions regarding the possibility to bring T-Guard's development further towards early market access for treatment of acute GVHD can be advanced."
Download the press release